Hi guys, worked with MS support on your issue today and found the root cause: within your environment there is a local Mailserver installed. Outlook tried to connect to that server.
You can reproduce it with the following steps:
1. Tried to configure a test account , we got a an error as server is not reachable
2. Ran a Outlook connectivity test in EXRCA– failed with auto discover response
3. Performed a Outlook connectivity test in Outlook
• Found that the auto discover is trying to get information from Exchange on premises
• Response from domain.com/auto discover was successful
• Since, there is no record for auto discover present in on premise – Outlook was not getting configured
4. To protect Outlook not connect to on premise server , we performed the below steps:
• Start Registry Editor.
• Locate and then select the following registry sub key:
HKEY_CURRENT_USER\Software\Microsoft\Office\x.0\Outlook\AutoDiscover
NOTE: x.0 in the above registry path corresponds to the Outlook version (16.0 = Outlook 2016, 15.0 = Outlook 2013, 14.0 = Outlook 2010, 12.0 = Outlook 2007).
• Add two registry entry value = 1 for:
ExcludeHttpsRootDomain
ExcludeScpLookup
Description: support.microsoft.com/…/2212902
To resolve the issue you can try the three options:
1. You can add the above registry key to all the machines – which is I understand difficult
2. You can decommission Exchange on premise
3. You can stop the internal DNS to query the on premise server for domain.com/auto discover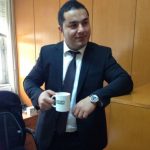 Yazar Hakkında Mustafa KURU